The Echotopia Storyteller, Creator, and Producer editions come with access to our full sound libraries catalog, while the Echotopia Free Trial and Editor editions come with access to a basic package of assets in order for any user to get up and running and test the editor.
Follow the steps below to access your content.
Step 1: Set your account's password
When you get Echotopia from our store, even the free trial version, an account is created for you on our website using an automated username generation algorithm that links the account with your purchases/downloads. At the same time, you also get an email regarding access to your content, with a link to reset/create a new password for your account.
Tip
It's a good idea to whitelist our domain soundfellas.com so you always get all our notifications in your inbox. If you don't see the email to reset your account's password, you should check your spam folder.
When you click the link from the email, you will be guided to a webpage to create a new password.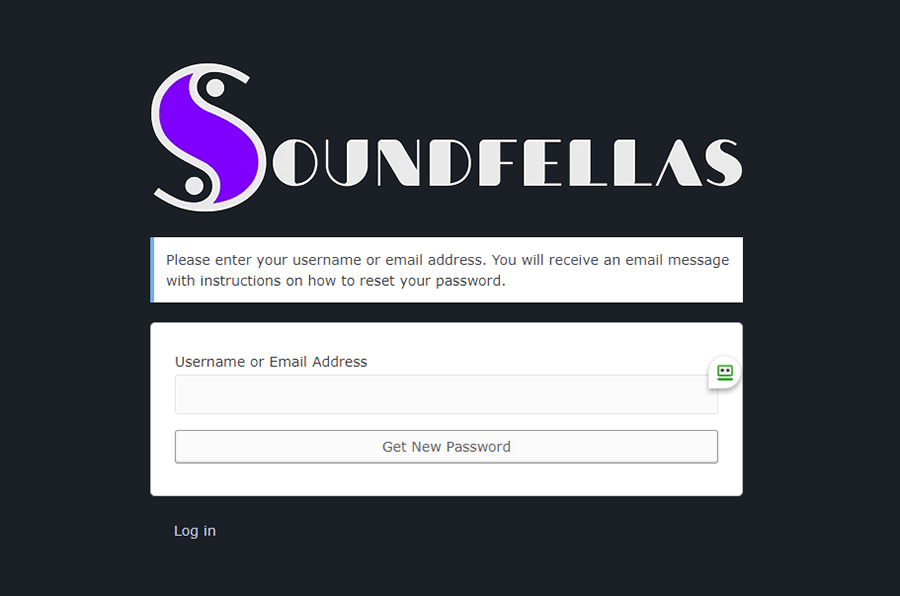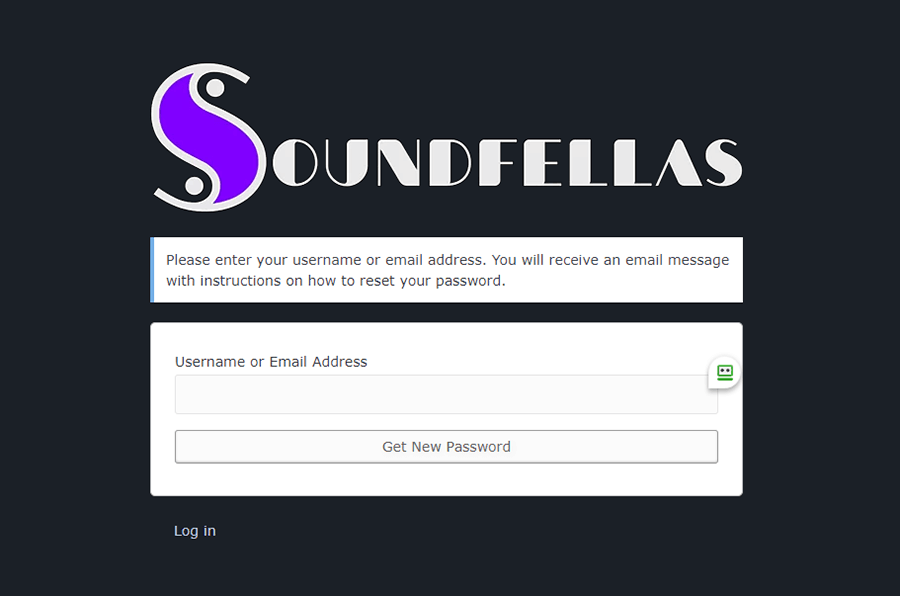 At this step, it's important to use the email address that you used when you got Echotopia. This is hardcoded for security reasons. Enter that email address in the form and submit it to get an email containing a link to a page to enter your new password.
Please use a strong password, save your credentials in a secure place, and never share your account information with anybody. It's your responsibility and legal obligation to keep your SoundFellas account safe and secret.
Step 2: Log in to your account
After creating your new password, go right ahead and log in to your account.
You can always access the login page using the link on the main website navigation menu.


Safety Advice
Never log in to your account from a publicly accessed computer or a computer that you don't control who has access to. Also, a good idea is to never enter your login details when you are connected to the internet through a public or shared network.
Step 3: Access your account page
After logging in you will be redirected automatically to your account page, if for any reason that doesn't happen, you can always access that page (as long as you are logged in) using the main website navigation menu as shown at the picture below.


Step 4: Access your content
On your account page, in the Content Access section, you will see a list of links depending on the various content that your account has access. Click on the one you would like to explore.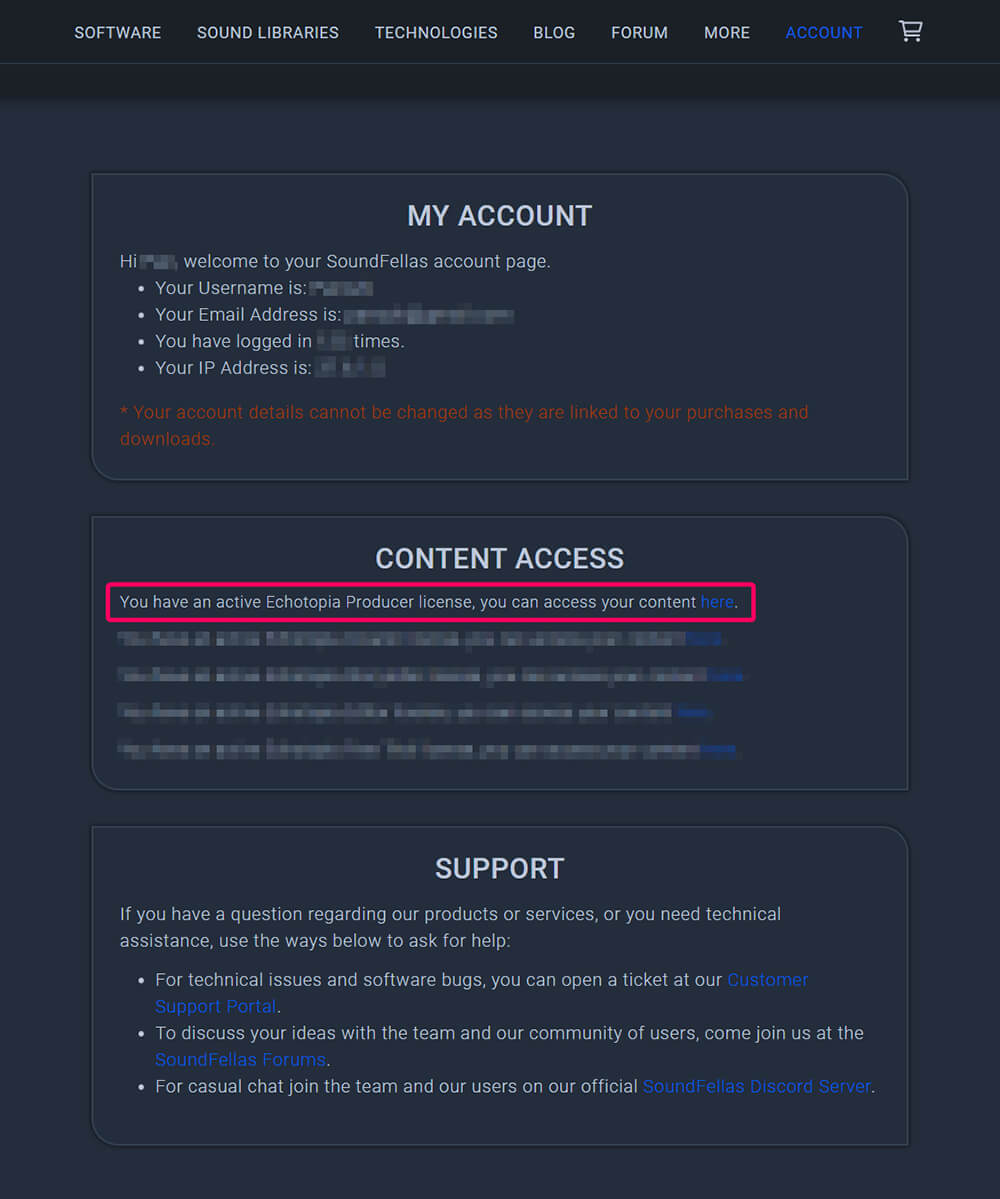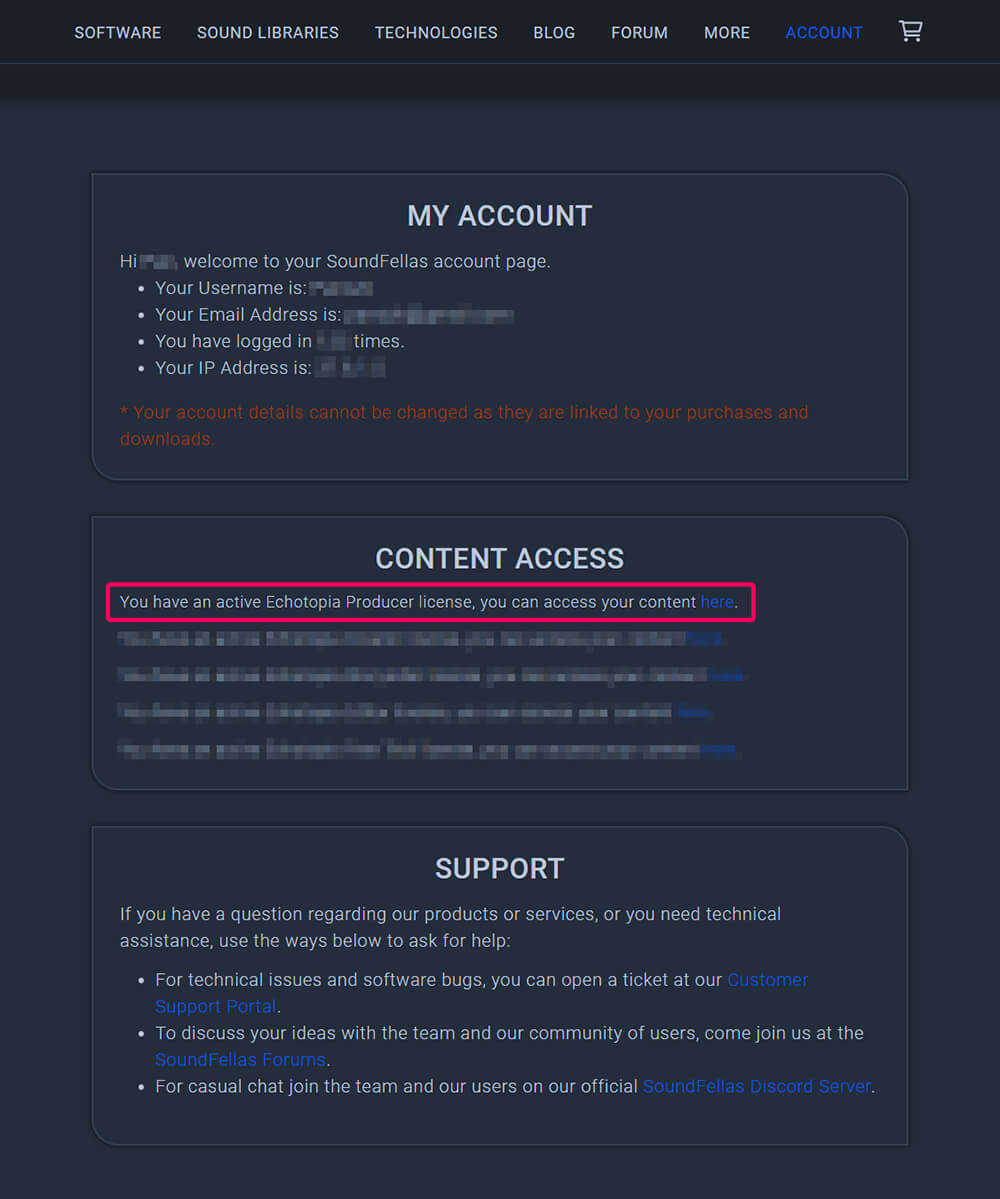 This will get you to a page containing the relevant content. As an example, here is a snippet of a small section of one of those pages (click to enlarge):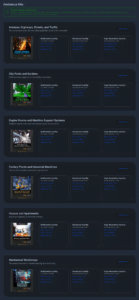 Step 5: Downloading your content
In this page you can find all the content you are eligible to download, organized by product category.
Each product contains useful links to download the parts of the content that you need and/or access relevant information.
Below you see a screenshot of one product card with all related links. This is an ambience kit sound library and it's shown here as it will appear for the Echotopia Producer users who have access to all the quality levels and all channel formats (click to enlarge).


Stay Green Tip
Downloading the content you only need is a great way to support our environment. By using only the resources you need, you help save server resources and power consumption, minimizing carbon emissions as much as possible.
Quality levels
For each sound library we offer three different quality levels, perfectly tuned for each use case:
Multimedia Quality: Production-ready resolution of 48 kHz using the latest Ogg Vorbis encoder, set in the VBR (Variable Bit Rate) quality setting of 0.75, which is a placebo quality level and it offers indistinguishable results from the original fidelity. For audio assets that will be used in authoring environments to build a final product, this is perfect and lightweight. You could carry our complete collection of sounds on a memory stick. This is also great for those who use Echotopia in live performances like storytelling for a tabletop RPG, playing sound for theatrical production, or streaming online, as the quality is more than enough. Using this quality will help you keep the demands of your machine's resources to the minimum and deliver great sound at the same time. For the tech-heads, our compressed files are mastered using high-quality dither as opposed to many sounds you will find from other vendors, offering you much more dynamic range and lower noise floor than our competitors.
Broadcast Quality: Industry-standard uncompressed wave files, in the standard for post-production resolution of 48 kHz / 24-bit. This is the standard for filmmakers and game developers, balancing between high-resolution and compressed files. You can still use this quality level for live performance or streaming, but you might task your computer a little bit more than the previous level. If you are using Echotopia for filmmaking or game creation. Vr, etc., or you would like to use the sound libraries for those purposes, then you might want this quality level, as it offers more flexibility when you pitch and stretch sounds in your editor's timeline or your game engine's audio tools.
High-Resolution Quality: Pristine uncompressed wave files, rendered in 96 kHz / 24-bit. This is the highest resolution that we offer in our sound libraries, very useful for professional audio producers who need enough resolution for advanced sound design practices. This quality is not recommended for use in live performance or within your film and game projects. Those files are meant to be used in audio production environments that use heavy processing and need all the information that can be found in the file, to hold the quality high even after multiple processing. also, those are the largest files, you will need enough storage space to download and maintain them (visit the Echotopia page and see the requirements section for exact specifications).
Channel formats
For the Echotopia Storyteller, Creator, and Producer editions, you can access different channel formats depending on the Echotopia edition you have:
Pro Tip
Whatever the channel count of your files, Echotopia will upmix or downmix them automatically to match your speaker configuration and render settings. This innovative automation makes sure that you always get immersive audio, no matter what kind of assets you use.
Main Library Files: Available to all three Echotopia editions, these are classic monophonic (aka mono) and stereophonic (aka stereo) files. When a file carries spatial information of value, we offer it in stereo. Those links also contain all the main files that the sound library has, independent of the channel formats you are eligible to download. So you should always download those as they contain both the basic version of stereo files but also the main content of each library.
Surround Files: Available to the Echotopia Creator and Producer editions, these are rendered in the quadraphonic (aka quad) surround channel format. This is the square configuration which is perfect for games and VR and also filmmaking, as rotating the field does not produce any energy fluctuation artifacts like sudden or unlogical deeps and peaks. For those working in filmmaking, you should use those in your 5.1 productions, as the center and LFE speakers should have their own content anyway. Find out more at the Recording Academy's Recommendations for Surround Sound Production. For games and VR this format is also good as it can be used by creating four virtual speakers that always follow the player character or main camera, and playback those files, either head-locked or not.
Ambisonic Files: Available only to the Echotopia Producer edition, these files are full 3D spherical (periphonic) renders which offer the best experience in cases of arbitrary speaker configurations for the end-user (gamers) or virtual reality headsets and mobile device listening through headphones (VR, mobile gaming, etc.). We render our ambisonic files in the industry-standard format Ambix. Using those files you can derive any other immersive audio format like Dolby Atmos, Auro-3D, IMAX, Hamasaki 22.2, and more. Currently, Echotopia is not compatible with this format, but we have plans to enable this in the future. If you are serious about immersive audio production, like for example theatrical film releases, VR experiences, high-end games, podcasts, and audio/radio dramas, you should learn and use this format. We take full advantage of the ambisonics capabilities in our production, and our sound libraries feature-rich sound fields with height and depth, and sound coming from every direction, to completely envelop your audience. Using ambisonics even for products that are finalized in lesser channel formats like planar surround or simple stereo, is proven to yield better aesthetics and a sense of envelopment.
Best practices
Here are some tips, to keep your downloads in tip-top shape forever:
Keep the original content in two separate places. One to browse when working and one for backup.
Don't work on the original content, when you finish browsing, create a copy somewhere to use with your project. That way, if you destroy or alter the content by editing, you will always find the original files again.
Use a good network when downloading your files to ensure that your downloads will not get disconnected.
Don't share the content, it is licensed only to you for use in your media projects, it is not your intellectual property but ours. By protecting our intellectual property, you protect our future and the maintenance and update of our products with more content and features.
If you include our content in your project folders, don't share your projects with others. If you want to share projects with others or publicly, you should use content that gives you this permission.
You cannot use our content to create similar applications and mobile apps or online pages and services, as this is a conflict of interest. Also, you cannot share our content as-is with anybody else.
Read the Audio Assets End User License Agreement, to learn the details on how you are allowed to use our content.
If you have any questions about any of the above, or you would like to ask for a specific project of yours, don't hesitate to create a ticket at our Customer Support Portal.
Have fun creating awesome things using innovative sound libraries from SoundFellas!